YouTube notified me that they blocked my new video in Japan for copyright reasons. However, confusingly, it's actually blocked in the US while available in Japan. The video is fair use and should not be blocked. (Vimeo and YouTube both have reasonable pages with info saying what is fair use.)
The video is Critical Commentary on "Sucker" by the Jonas Brothers. It educates people on what's wrong with popular culture.
After the video was blocked, I uploaded it to BitChute. That worked but the video quality is low (the lyrics text is blurry). So then I uploaded to Vimeo, which allows higher quality. Vimeo doesn't play ads, but you can't upload much data without paying for an account. Vimeo doesn't have speed controls, so you need to use something like the Video Speed Controller Chrome extension. Vimeo lets you sell videos and associate documents with them, so I could potentially use it as a Gumroad alternative. YouTube has the most users and I'd prefer to use it as long as my videos aren't blocked, although users do need to get ad blocking software in order to have a good experience on YouTube.
Years ago, I looked at YouTube's copyright dispute process and didn't like it. As I recall, it didn't talk about fair use and it wanted me to provide information so that, if I was mistaken, it'd be easy to sue me. Today, the process is different, so I submitted an appeal. Here's what I wrote (706 characters out of a limit of 2000), then screenshots of the process:
The video is a critical commentary on a Jonas song. It's transformative, educational and non-profit. 90% is just me talking with the song paused. It's a 37 minute video about a 3 minute song. I play a few seconds of the song at a time and then analyze that section. No one would watch my video in place of the original song because I constantly interrupt the music. My video is not musical in nature, so it doesn't substitute for a song. My video is essentially a podcast or lecture which educates people about the flaws in popular culture. Making my video required using the song because the song is the target of my commentary, and the visuals and tone are relevant in addition to the text of the lyrics.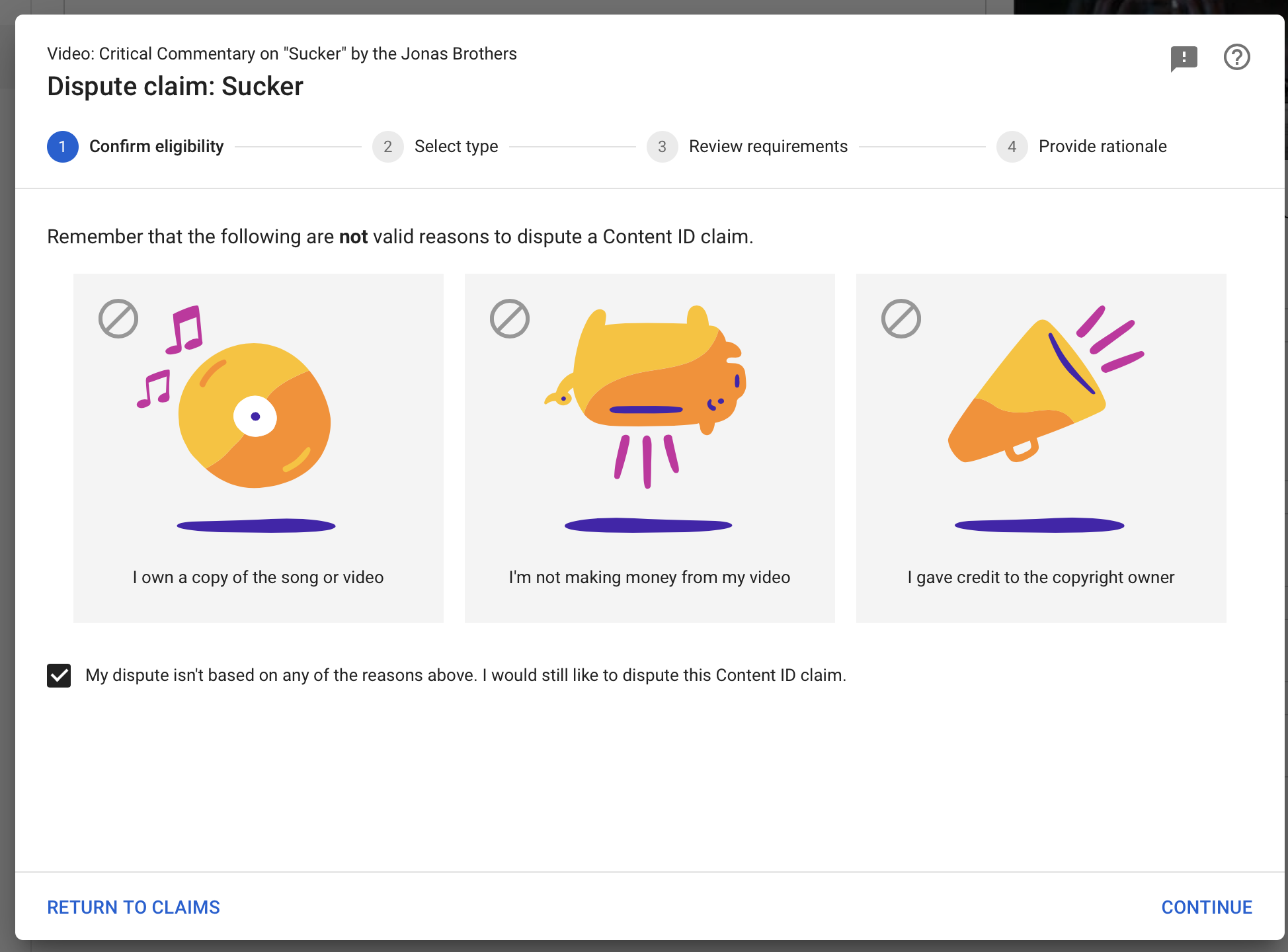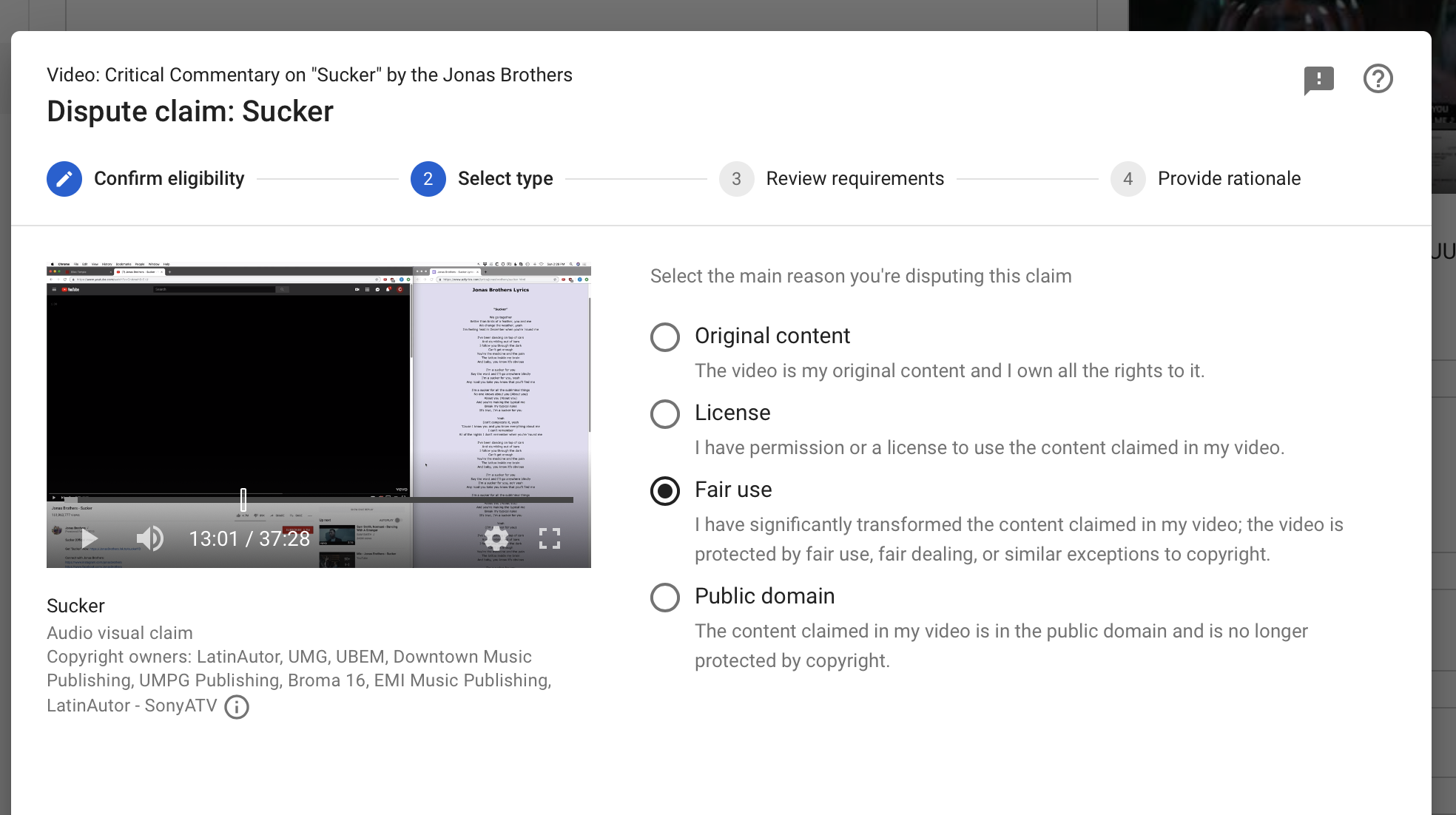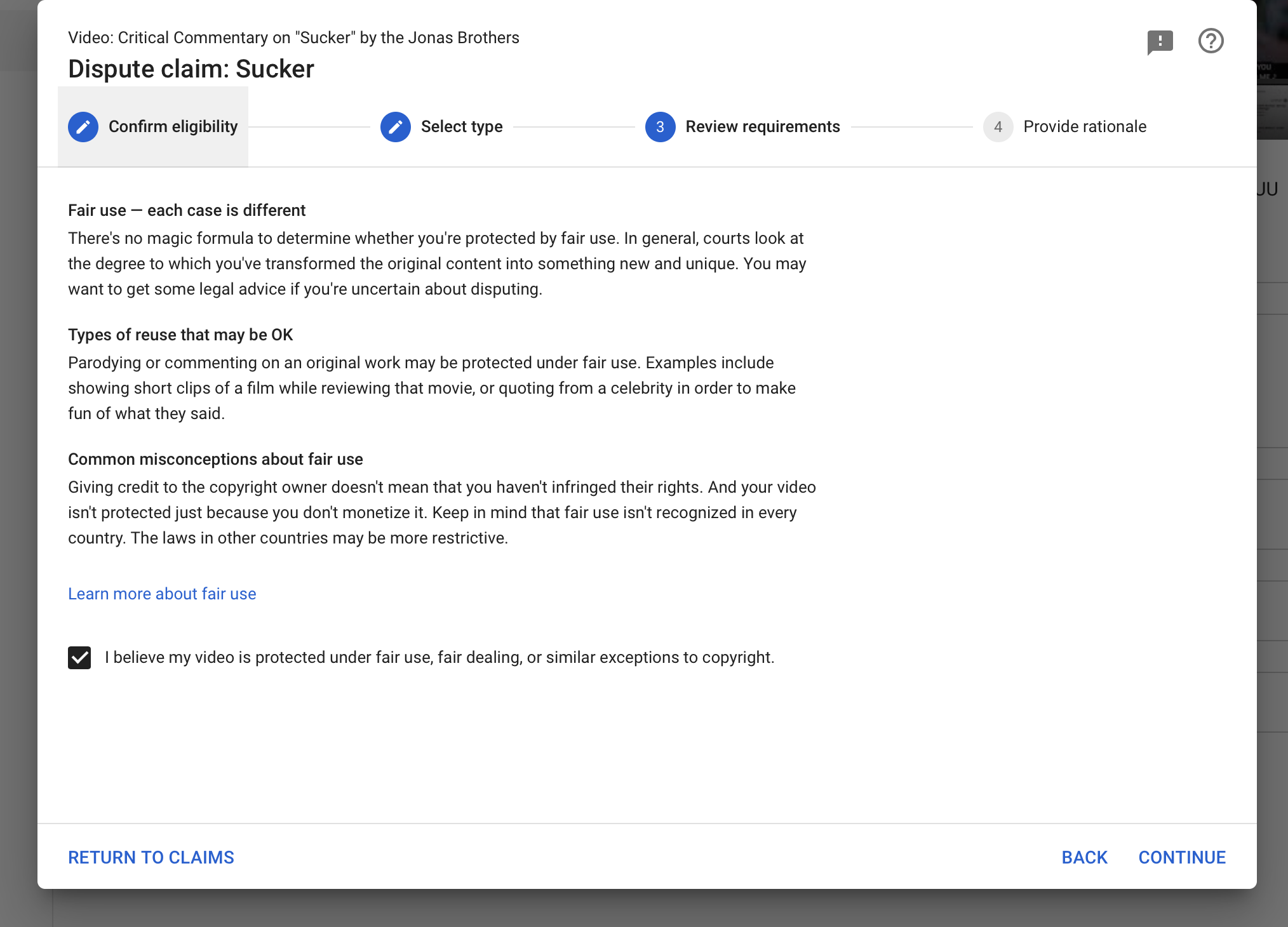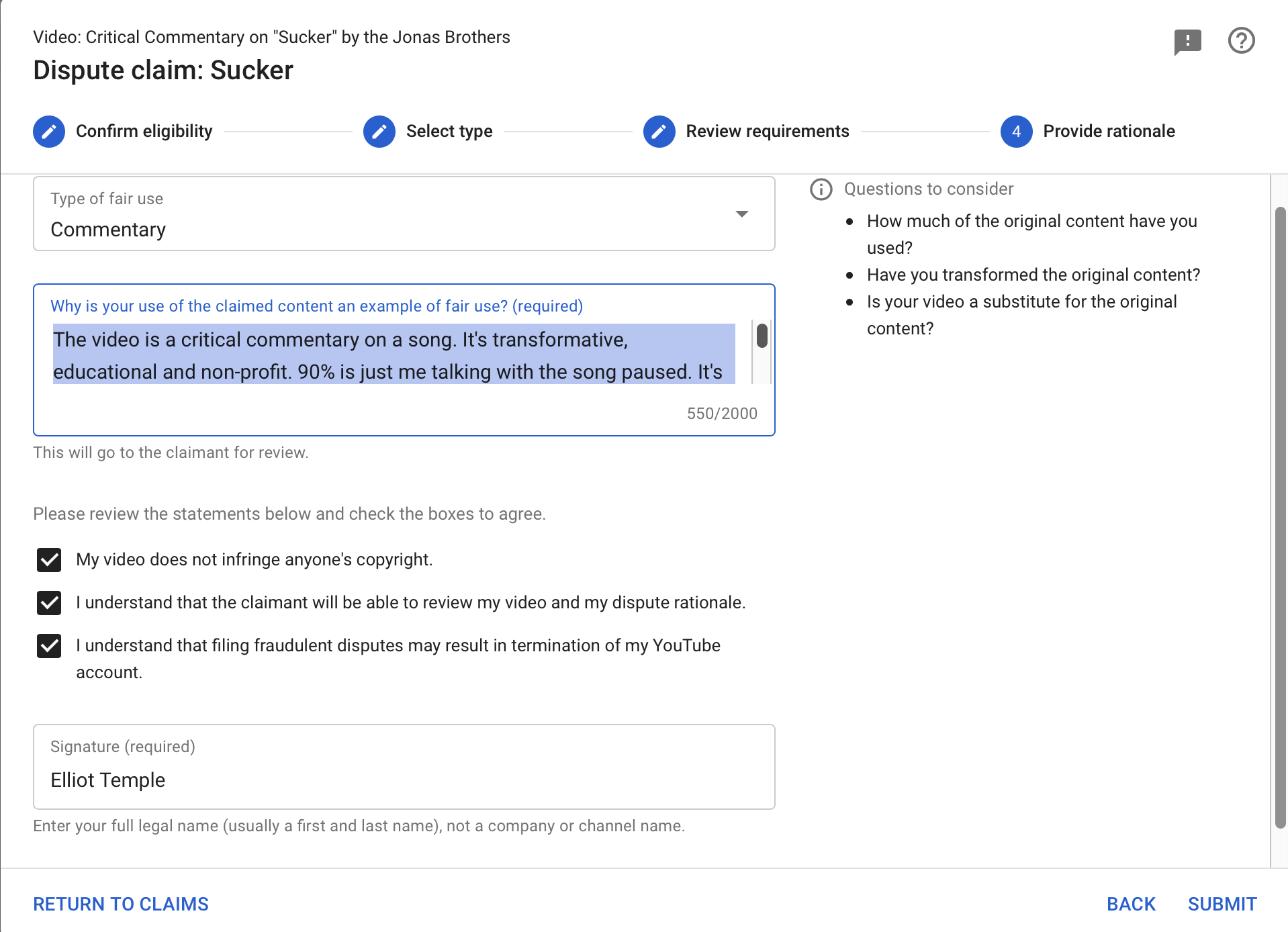 If this works, maybe I'll tell them that my Bones Song Criticism is also fair use. It was only demonetized, not blocked, so people could still watch it, so I didn't do anything. I could also let them know that The State of YouTube Philosophy (+5 video replies) and Teachers Paddling Children are Violent Abusers are fair use.
The video is unblocked while the fair use appeal is pending.
---
Update: (2019-06-26)
Universal Music Group submitted a second copyright claim on the same video. The first one was apparently just for the visuals, and the second one is for the audio. This time they're trying to block the video in all countries. I disputed the claim using the same explanation that I already used for the first claim. The video is now blocked in all countries for 48 hours (they get 30 days to respond to the dispute, but only 2 days of blocking the video, so they have to respond quickly if they want to keep it blocked).