This is part of a series of posts explaining the harassment against me which has been going on for years.
---
Justin Mallone emailed David Deutsch (DD) to bring up the Andy B harassment encouraged by DD's associates and fan community. DD replied (italics are mine, and you can view a screenshot of the email which includes what Justin said):
As I have told Elliot several times, I don't want to hear from him. That includes indirectly via you and many others. I don't know this Andy B he speaks of. I'm not aware of anyone I know sending DDoS attacks or anything else covertly to Elliot. I'm not the chief of anything. I'm not the leader of any group. Please go away.

David Deutsch
This is a lie about a factual matter. DD did not tell me several times that he didn't want to hear from me. He never told me that. He hasn't made a no contact request. I provide evidence below.
Note: I know that accusing someone of lying will bring strong reactions. If you're upset by this article, please try to be objective and look for factual or logical errors rather than assuming it's wrong. And remember that all I want is to be left alone and not have my rights violated. I would address this privately, but DD won't discuss it with me, and I don't know who else he lied to.
The lie about no contact requests is what DD says when he's writing something he knows may be published. It's also what he says to someone he believes is on my side acting as my proxy. This is DD on his best behavior addressing (for the first time ever that I've seen) his involvement in DDOSing, cyberstalking, multi-year harassment, etc. I presume he's said similar or worse to people he thinks are on his side (there's circumstantial evidence that he's been doing that for 5+ years).
DD's lie is damaging to my reputation. He's smearing me as a person who violates no contact requests. I never did that.
Justin (another of the harassment victims) asked DD to write a tweet asking his followers to stop harassing. Not only did DD refuse, he also lied to attack the primary victim (me). DD presents me as a person who treats others immorally by violating reasonable and repeated no contact requests. DD turns things around by changing the topic from harassment against me to alleged harassment by me. That makes it sound like he thinks I'm in the wrong and I'm the one who needs to change behaviors. His email implies that he sees me, but not Andy B, as a problem, and that he doesn't see the harassment against me as having gone too far. And the things DD denied are different than my actual claims, which is a rhetorical trick to make it sound like he's disputing something when he's actually avoiding the issue.
DD's lie echos previous comments by the biggest harasser, Andy B, who claimed that I was ignoring direct requests to leave people alone or stop doing things (but he didn't specify any requests and was just using it as a tactic to attack me). Andy B may have gotten that idea from DD or one of DD's associates, but I don't know specifically because none of them will speak about it.
I challenge DD to provide specifics of the "several times" he (allegedly) told me that he didn't want to hear from me or made a no contact request. The vast majority of our communication was in writing. I have records of it and I believe DD does too. And I don't think it's an innocent mistake to say "several times" when it was zero times; he isn't just off by a little bit (like saying 4 when it was 5).
Our Most Recent Communications
To see what's true, let's take a look at DD's most recent communications to me. This list of emails is the full story because we stopped using other communication methods like IM before this. I'm going to limit what I share for both of our privacy. I will provide full information if DD disputes my account.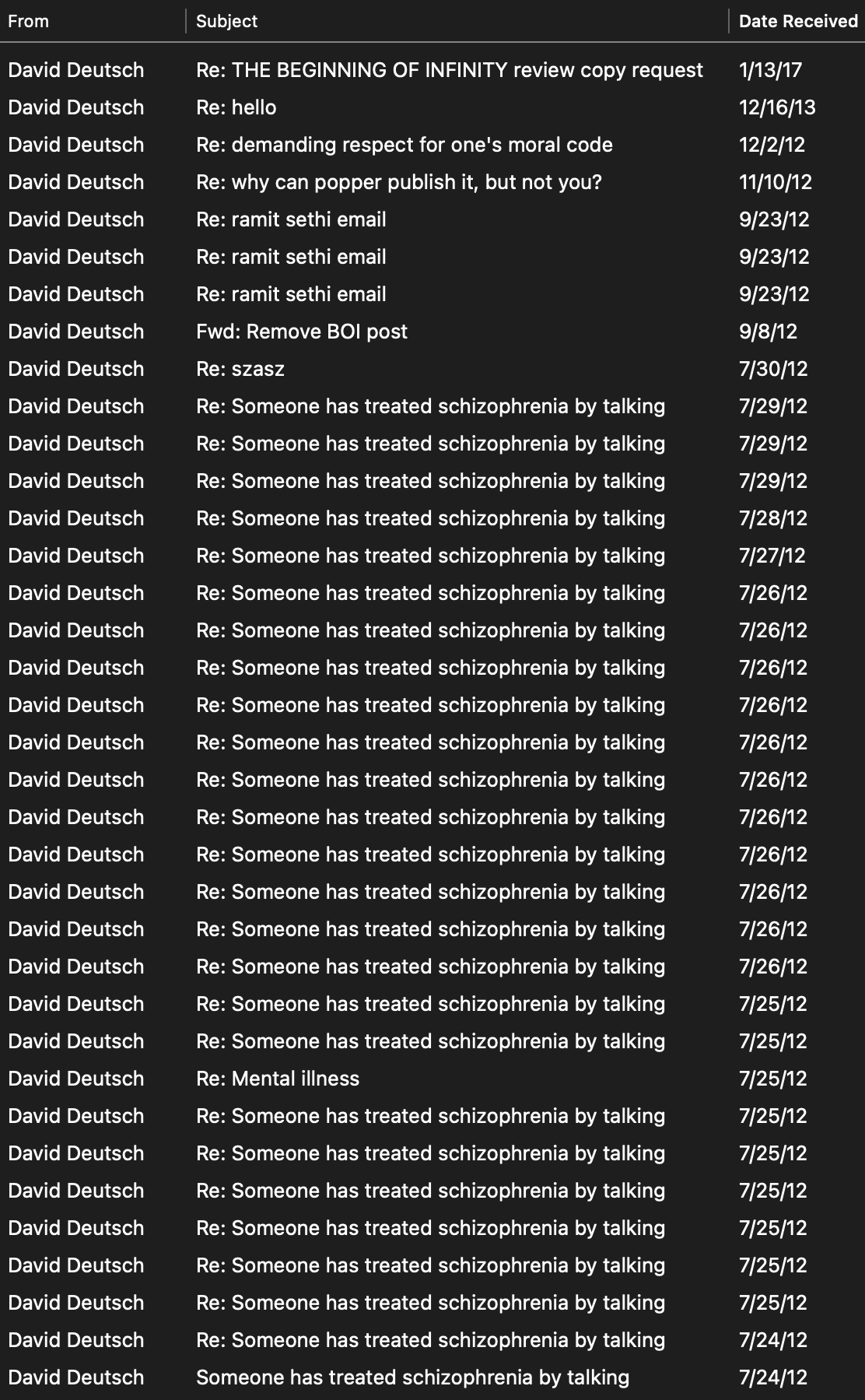 Note: This screenshot only includes personal emails. DD also sent discussion group replies, including Oct 2013 replies to me about impersonal topics on my private discussion group. That seems incompatible with the existence of an active no contact request.
Now let's go through all the emails in the picture, from oldest to newest. The bulk are DD's 26 emails in 6 days discussing schizophrenia with me, plus the related emails about Mental illness and szasz (an author who wrote The Myth of Mental Illness). DD initiated the discussion by sharing his comments on an article. He was starting a friendly debate on an issue he knew I partially disagreed about. We ending up discussing political theory. It was a discussion he chose to have for fun or learning, which he was under no pressure or obligation to participate in, so it indicates there wasn't any no contact request active at that time. If all later emails also lack a no contact request, I think that should be convincing.
Next is the email Remove BOI post. That was sent to DD but meant for me, so he forwarded it. The later email THE BEGINNING OF INFINITY review copy request was the reverse: it was sent to me but meant for DD, so I forwarded it on to him (he replied with "Thanks."). I created, owned and ran the BoI forum (and website) at DD's request, so that's why the email about removing a post (which had been sent by accident) should have gone to me.
The three ramit sethi email emails involved DD helping me edit a draft email to a public figure (Ramit Sethi teaches personal finance). Helping each other edit stuff was typical of our relationship, and isn't what people do when they have no contact requests outstanding.
In why can popper publish it, but not you?, DD criticizes Popper. It doesn't say anything about not wanting to hear from me.
demanding respect for one's moral code is the most negative and complicated, but does not contain a no contact request. I had sent DD a quote from Atlas Shrugged, a book he was a fan of and which had influenced his thinking and philosophy. I commented, in full, "when you appear to be acting against a main theme of Atlas Shrugged, shouldn't you explain yourself?" Due to our many prior conversations, I thought DD would understand what I meant, though I may have been mistaken. DD's response began:
You are saying that I ought to write you an essay, on the subject of your choice.

More generally, you keep demanding that I work for you. You keep claiming that I have an obligation to do so.
This was (as best I can understand it) a misinterpretation of my question. I meant that if public figures change their mind about ideas and advice they shared with thousands of people, I think they ought to keep their fans updated, e.g. with a retraction. You wouldn't want people to keep using your ideas that you later discovered were errors. It's like when a scientist publishes a result, and later discovers it's false, then he ought to publish updated info.
Asking a critical, argumentative question is not a demand that DD work for me. It's intellectual debate. DD could agree, disagree or not reply (he'd used all of those options many times in the past).
DD didn't want me to demand that he work for me (I don't think I did, nor do I think I was ever capable of bossing around my mentor who is an award-winning physicist, successful author and Royal Society member). That's different than a no contact request. And in my judgment, wanting DD to stop lying about me, retract the lie(s) and tell his fans to stop harassing me is not violating his old request. Those are actions that any reasonable person would do. And I'm not trying to get DD to work to provide me with a positive value (such as an essay I'd enjoy); I just want my rights to stop being violated.
The last email to discuss is hello. In it, DD answers my question "are you interested in a solution?" (to whatever reason we weren't talking much anymore, which wasn't clearly specified) with "Yes." I actually read the rest of the email in a negative way, but it didn't say anything about not wanting to hear from me.
Conclusions
So, reviewing DD's communications, he repeatedly acted like he did want to hear from me, e.g. by conversing with me, and he didn't request not to hear from me again once, let alone "several" times. My takeaway is that DD has lied to attack the same person that his fans are harassing.
I've shared this to try to undo some of the harm to my reputation that DD is doing by lying about me. See also the praise DD wrote about me, which I shared for a similar purpose.
What I want is simple. DD: stop lying about me, retract your lies, and tell your followers to stop harassing. Leave me alone.